​A BGU scientist and his research group are among fifty-five ERC grantees to win Proof of Concept Grants funded by the European Research Council (ERC) to explore the commercial or societal potential of their frontier research projects. Worth €150,000 each, this top-up funding is part of the EU's research and innovation program, Horizon Europe.
The selected projects cover a variety of different fields and questions, such as a more efficient method to produce the cells used in immunotherapies to fight cancer; new technologies to lower our energy consumption; and a quicker way for companies to change ingredients of everyday consumer products to make them more environmentally friendly.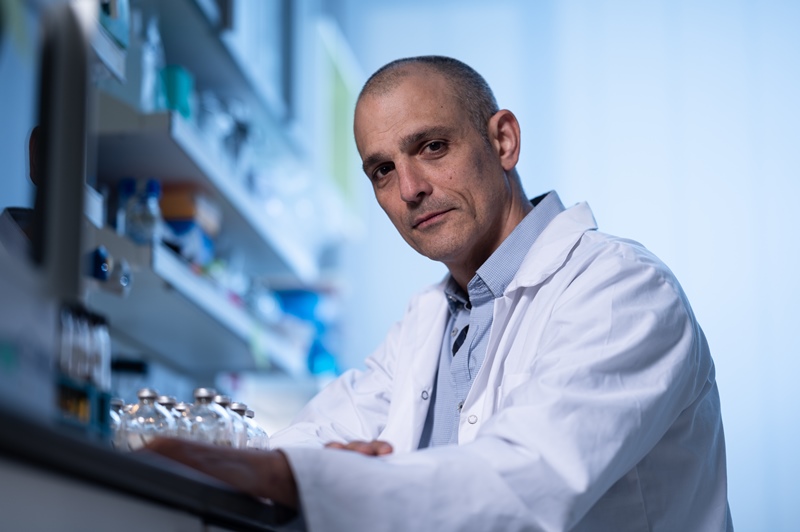 Prof. Itzhak Mizrahi, of the Department of Life Sciences in the Faculty of Natural Sciences and a member of the National Institute for Biotechnology in the Negev​, and his research group will explore FibRestoration – novel specialized probiotics for restoring a healthy fiber-degrading microbiome.
Dietary fiber is well-recognized as beneficial to gut microbiome and has repercussions on human health. Consequently, in recent years, alternative dietary lifestyles favoring the consumption of high amounts of dietary fibers have been proposed. In order to avoid digestive discomfort associated with the increased intake of dietary fiber, the Mizrahi Group proposes to develop probiotics that will target cellulose, a main component of dietary fiber.
Indeed, cellulose-degrading bacteria are absent both in the gut microbiomes of most human populations and in existing probiotics. The Mizrahi Group's research has highlighted a microbial genotype existing in the gut microbiome of a minority of humans, which is highly similar to that of the key fiber-degrading, cellulose-fermenting bacterium of the rumen microbiome. Significantly, they discovered that this particular bacterial genome is prevalent in the gut microbiome of members of human hunter-gatherer populations, whose main diet consists of raw fiber.
The Mizrahi Group concluded that the very low prevalence of this bacterium in the microbiomes of most human populations reflects its global disappearance owing to industrialization and modernization of society and the consequent worldwide reduction of fiber in modern diets. They therefore propose to reinstate this critically important bacterium into the human microbiome.
Prof. Mizrahi's microbial eco-genomics lab studies the evolutionary forces that act on microbial communities in nature, as well as the ecological forces that shape them. Specifically, they are interested in the factors that determine microbial community assembly in gut environments, as well as the effect of gene mobility via plasmids on their ecology.
Prof. Mizrahi has been awarded both ERC starting and consolidator grants.
Out of 96 evaluated proposals, 55 projects were selected for funding. The new grants were awarded to researchers working in 16 countries: the Netherlands (10), UK (7), Italy (6), Germany (5), Israel (5), Spain (4), France (4), Austria (3), Czech Republic (2), Finland (2), Portugal (2), Belgium (1), Turkey (1), Sweden (1), Romania (1), Norway (1).
The Proof of Concept (PoC) grant competition is open only to ERC grantees. According to a recent survey, more than half of the researchers awarded PoC grants have either created companies or transferred the results of their research to pre-existing companies. The ERC, set up by the European Union in 2007, is the premier European funding organization for excellent frontier research.​