Ben-Gurion University of the Negev (BGU) and The European Center for Jewish Music at the Hanover University of Music, Drama and Media (HMTMH) recently signed a cooperation agreement, which will pave the way to further scientific cooperation, and open the gate to student and faculty exchanges.
The agreement was signed by Prof. Sarah Ross on behalf of HMTMH and by Prof. Limor Aharonson-Daniel, VP for Global Engagement, and Prof. Aviad Raz, chair of BGU's Department of Sociology and Anthropology, in the presence of Prof. David Wettstein, Dean of BGU's Faculty of Humanities and Social Sciences.
The first active cooperation between Prof. Sarah Ross, HMTMH, and Prof. Dani Kranz, BGU, constitutes a three-year research project that received a major DFG (German Academic Research Council) grant which focuses on "Knowledge Architectures: Mapping structures of Jewish heritagization processes on communal, organizational and academic levels in post-1945 Europe," part of which is due to be published in May 2022.
The current project is part of the "Jewish Cultural Heritage"  program and will include Dr. Marina Sapritsky Nahum, a postdoctoral scholar, and Mr. Samuel Weigel a Ph.D. student. The first international conference of the umbrella project is set to take place at Ben-Gurion University in late 2023.
Ross and Kranz plan to develop a follow-up project for the second funding phase in which they will focus on issues of conversion in post-1945 Europe. Furthermore, HMTMH and BGU agreed to offer joint international seminars for students from Israel, Germany, and other countries. The seminars will alternate between Israel and Germany.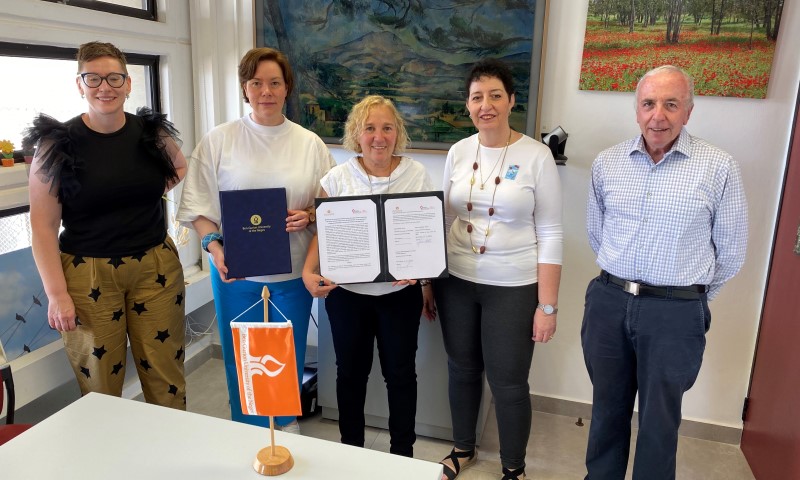 Pictured above from left to right: Prof. Dani Krantz, Prof. Sarah Ross – HMTMH, Prof. Limor Aharonson-Daniel – VP for Global Engagement, Dr. Stavi Baram – Director, BGU International, Prof. David Wettstein – Dean of the Faculty of Humanities and Social Sciences
​