European Commission President Ursula von der Leyen received an honorary doctorate from Ben-Gurion University of the Negev on Tuesday, June 14, 2022,​ on the Marcus Family Campus in Beer-Sheva.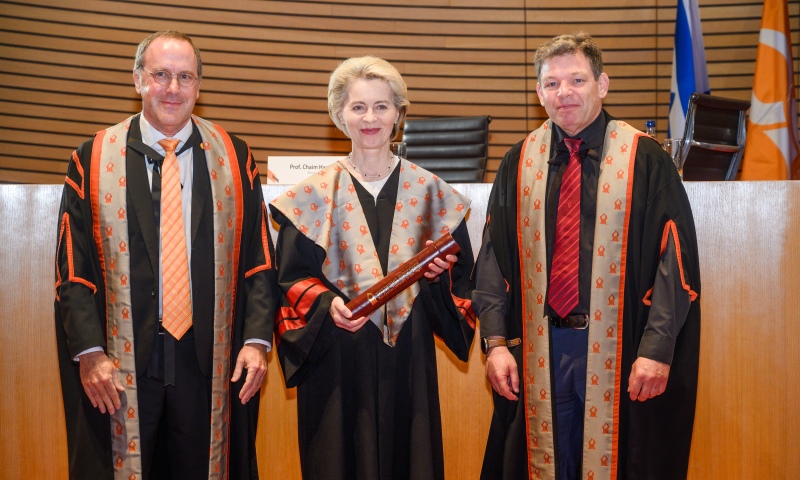 "We bestow the doctorate honoris causa upon individuals who exemplify the characteristics that we wish to hold up as inspiration to our students, and as role models for our own community of scientists, scholars and supporters," Ben-Gurion University of the Negev President Prof. Daniel Chamovitz told her.
"President von der Leyen, when I look at your myriad accomplishments, and your priorities, I am pleased to see some of the directions that we as a university have also committed to. Your "roadmap for a green transition" to battling climate change is perfectly aligned with our new Goldman Sonnenfeldt School of Sustainability and Climate Change. For over 50 years we've been learning how to live in our desert, and now the world comes to learn from our experience.
"And your long-term commitment to women's rights, gay marriage and an inclusive democratic society is built into the DNA of our university, which sees its mission as building a shared academic society that uses higher education as a tool for societal transformation," he said during the ceremony.
"I feel honoured and humbled by this recognition," President von der Leyen began, "The fact that the honorary doctorate comes from this prestigious institution, the Ben-Gurion University of the Negev, has a very special meaning for me. This is not only because the list of your doctors honoris causa is truly impressive – from Simone Veil to Yitzhak Rabin. There is also a more personal reason for me. I am a European woman of German nationality. And no longer than 80 years ago, millions of Jewish people were murdered by Germans, in the greatest crime of all human history. We, in Germany, take historical and enduring responsibility for this inhuman disruption of civilisation. It is an indelible stain on my country's conscience, which we must never and will never forget. So, it feels like a miracle that a German like me is welcomed and honoured here, in the State of Israel, as a friend among friends, only a few generations after the Shoah.
"But it is no miracle. My being here is the consequence of a choice made by the State of Israel, and by one man above all: The great David Ben-Gurion. It was he who took the first, historic step towards reconciliation with the Germans. He believed that the best way to honour the victims' memory was to build a better future."
Turning to Jewish life and history in Europe, "The very reason why the European Union was founded lies in two simple words: Never again. As long as I can remember, I was convinced of two very simple facts. First, there is no Europe without European Jews. And second, Europe and Israel are bound to be friends and allies. Because the history of Europe is the history of the Jewish people. Europe is Simone Veil and Hannah Arendt. Europe is Mahler and Kafka, and Freud. Europe is the values of the Talmud, the Jewish sense of personal responsibility, of justice and solidarity.
"Today, almost 80 years after the Shoah, Jewish life in Europe is thriving again. Countries like Portugal and Austria are rediscovering their Jewish heritage. I see it in Brussels, too. Just a few months ago, I had the honour to light the Chanukah Menorah in the heart of the European quarter. What an experience. And yet, European Jewish life is also embattled and endangered. Anti-Semitism has not disappeared. It still poisons our societies. And anti-Semitic attacks happen, today, in Europe. It is a new threat but it is the same old evil. Every new generation must take responsibility so that the past does not return. This is why, I have put the fight against anti-Semitism and fostering Jewish life in Europe at the core of the European Commission's agenda. Our democracy flourishes if Jewish life in Europe flourishes, too. Throughout the centuries, the Jewish people have been 'a light unto the nations'. And they shall be a light unto Europe for many centuries ahead."
Shifting to the threat to democracies and Russian aggression, "Today more than ever before, democracies like Europe and Israel should come closer together. Not because our democracies are perfect. They are not. No democracy is. Democracies offer the environment in which diverse societies can thrive. And they are challenged like never before. And we can help each other overcome these challenges. Together, we can get one step closer to the ideals of our founding fathers and mothers.
"Russia's aggression of Ukraine is a war against democracy itself. It is a war against the idea that the people of Ukraine can take sovereign decisions about their own future. Year after year, Ukraine's diverse and vibrant civil society has pushed for positive change and has strengthened the country's democratic institutions. This is exactly what the Kremlin is fighting against. It could not be more symbolic that the first Russian bombs on Kyiv fell right by the gate of a Holocaust memorial and that the Russian propaganda is built on the abominable rhetoric of 'denazification' against a democratic Ukraine. We see with great worry the age-old threat of scapegoating the Jewish people in times of war. I know that Israel has helped Ukraine with tons of humanitarian aid and a field hospital, and you have welcomed tens of thousands of Ukrainian refugees to your land.
"In a war against democracy, we all have a stake. And for us, Europeans, the stakes could not be higher. The Kremlin has used our dependency on Russian fossil fuels to blackmail us. And since the beginning of the war, Russia has deliberately cut off its gas supplies to Poland, Bulgaria and Finland, and Dutch and Danish companies, in retaliation for our support of Ukraine. But the Kremlin's behaviour only strengthens our resolve to break free of our dependence on Russian fossil fuels."
President von der Leyen highlighted two future projects with Israel, "For instance, we are exploring ways to step up our energy cooperation with Israel. We have two major projects in preparation: The world's longest and deepest underwater power cable, connecting Israel with Cyprus and Greece. This will eventually come from renewable sources. And a gas and clean hydrogen pipeline in the Eastern Mediterranean. This is an investment in both Europe's and Israel's energy security. And this infrastructure will also contribute to decarbonising our energy mix. It is a great example of democracies sticking together not only in times of conflict but mostly to fight this huge enemy, the climate crisis."
She stressed the climate crisis and the role Ben-Gurion University and Israel could play, "Climate change is indeed the second great challenge that our democracies must face. And no one understands this better than you, here in the Negev. David Ben-Gurion believed that here in the Negev, Israel's creativity and its pioneering spirit would be tested. He always spoke about 'the duty to make the desert bloom'. And that is exactly what you have done ever since. As we can see in your School of Sustainability and Climate Change. I marvel at how you are testing new building materials that can withstand the desert heat, nature-based solutions, and how you have managed to adapt food crops to the desert climate. With the looming food crisis, we know that these will be the solutions that will determine if countries have independent food production capabilities. You have, quite literally, made the desert bloom. Today, the solutions that you have been researching for decades can change the life of millions across the world."
President von der Leyen delivered a ringing endorsement of democracy, especially its ability to make corrections in its path, "We must strengthen our democratic way of life every single day. We must nurture our openness, and our diversity. We must defend the freedom of our media, the independence of our judges, the equality of all people before the law. Keeping democracy in good health is hard work. But it is worthwhile work. Imperfect though it may be, this is the best thing about democracy. Autocrats cannot admit mistakes. Democracies can always improve and correct. Because we, the people, can always make it better. Because we, the people, are the ultimate guardians of democracy," she told the audience.
Link to the full text of President von der Leyen's speech
The scroll President von der Leyen received reads:
"In recognition of an exceptional stateswoman, President of the European Commission, guiding the European Union towards a promising future by promoting democracy, peace and unity among its members; in acknowledgement of her inspiring leadership, confidently steering the Union through upheavals and storms, including during the current war on the continent; with appreciation for the extraordinary skills she has applied in service of the public throughout multiple cabinet appointments in Germany, including as federal Minister of Defense, Minister of Family Affairs and Youth and Minister of Labor and Social Affairs; with sincere regard for her contributions to Germany's security and social justice, and her efforts on behalf of its women, children and youths in particular; in gratitude to a true friend and ally, for her uncompromising efforts to eradicate antisemitism and ensure the wellbeing of Jews throughout Europe, as well as her commitment to enhancing the standing of the State of Israel and deepening its ties with the EU; and with great esteem for her dedication to environmental protection and economic growth, and for her dauntless perseverance in advancing equal rights and opportunities for all people and for future generations."​